Get To Know AAA Plus Flooring
Learn about AAA Plus Flooring! We are a retail flooring supplier with professional installation services, located in Glendale, Arizona. We've been in business for over 20 years, and we're here to serve you!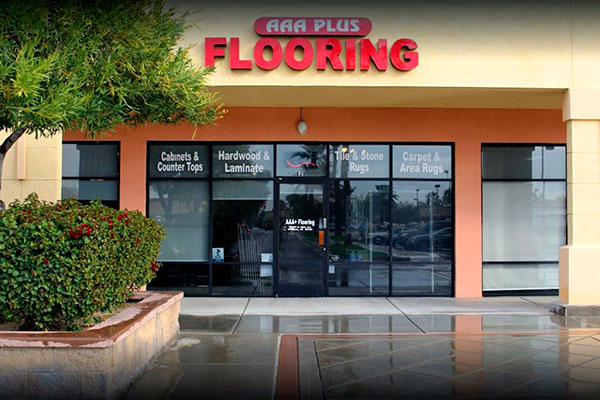 The AAA Plus Flooring Story
AAA Plus Flooring has a rich history that spans over two decades. Over time, we have evolved and grown to become a trusted name in the industry, known for our commitment to quality and customer satisfaction. Our journey continues as we strive for excellence in all that we do.
Today, we stand as a thriving and reputable flooring retailer and installer, proudly serving our valued customers with top-quality products and exceptional service!
Our Commitment To Quality
Our mission is to elevate your living spaces with exquisite flooring solutions that inspire comfort and style. We are dedicated to exceeding expectations, offering innovative designs, eco-friendly options, and unmatched expertise to create enduring beauty in every home we touch.  We're passionate about flooring, and it shows!
Explore AAA Plus Flooring
Why Customers Love AAA Plus Flooring
My sister and I can't stop smiling at the flooring that is now throughout our first floor. From the time we walked into the store and talked to Bill to the time Richard bid us farewell at the end of the project, it was nothing but a fantastic professional experience. Bill guided us through the initial process and Richard was easy to work with and didn't mind our questions. We will be working with them on other projects in our house soon.
From start to finish our experience with AAA Flooring could not have been better. From the help we got from Bill and Doug to the expert craftsmanship from Richard our home now looks like a model home. They say what they do and do what they say. An overall professional experience.
We are still at the beginning stages of putting vinyl and carpet in the house, but it has been nothing but a positive experience thus far. Great communication and fair prices. I'll update with after pics when the job is done, but the kids got quite the thrill today when they were told they could leave their mark on the leveling compound before the vinyl is placed. Thank you Richard for making it fun for them!
Daniel Reisdorfer
2023-01-20
AAA+ Flooring was absolutely awesome to work with. Richard was a very knowledgeable and experienced craftsman in laying our carpet and installing new baseboards throughout our home.In our experience with them we believe Doug, Bill and Richard went above and beyond our expectations. We will definitely be using them in the future to install tile in our home and will be recommending them to friends and family.
One of the best home remodeling decisions we have made in years. These people are fantastic and the greatest to work with. We love the end product of vinyl planking that looks like tile. The work was done in a very timely matter and it was done to perfection. I will not go to anyone else in the future for flooring. Thank you guys.
Bill DePaul very helpful determining best Flooring for our home. Bill quoted job and after review we did the whole house in new Flooring. Rich the installer is outstanding, professional, polite and has excellent attention to detail. Job went as quoted and came out spectacular. My wife and I highly recommend Bill DePaul/ AAA+ Flooring.
Had ceramic tile installed in house we just bought. They did an outstanding job installing it. It exceeded my expectations by miles! Tried my best to find any issues and could not find one. Doug was really easy to work with getting the tile installed. I HIGHLY recommend AAA+ Flooring
Bill did a great job on our floors!
We just bought floors and had them installed from AAA. Bill was professional and super helpful, I forgot the man's name who did the install, but he was also professional, timely, clean. We had a great experience!
Awesome - from start to finish! Everything went easy, simple, and on time. We went to the showroom, picked out a couple sample boards, took those home and a couple days later the measure technician came by to confirm the color and measure. Installation was set, and Richard arrived on time and worked his tail off! There are not a lot of companies that run this smoothly - great work, and we always try to support the local, family run businesses. Thanks for you hard work and attention to detail!
Frequently Asked Questions